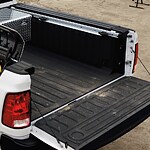 At Devils Lake Chrysler Center Inc, we're all about choices. The Ram 2500 offers plenty of them — especially when it comes to the powertrain. With so many options, it's easy to configure this popular heavy-duty pickup truck to meet your driving, towing, and hauling needs.
The Ram 2500 comes with three engine options: the standard 5.7L HEMI V8, a Heavy-Duty 64L HEMI V8, and a Proven and Legendary Cummins Turbo Diesel I6. Respectively, they have towing capacities of 13,890 pounds, 16,320 pounds, and 17,980 pounds — all you need to do is figure out which one works for you.
That's not all — you can also customize your Ram 2500 with an automatic or manual transmission. The six-speed manual is built for heavy-duty use and is designed to help you get the most from the diesel engine. No matter which engine you choose, you can also opt for the six-speed automatic, which offers exceptional performance and responsiveness. Try out all of the options during a test drive of the Ram 2500 at our Devils Lake, ND dealership.